INSTRUCTORS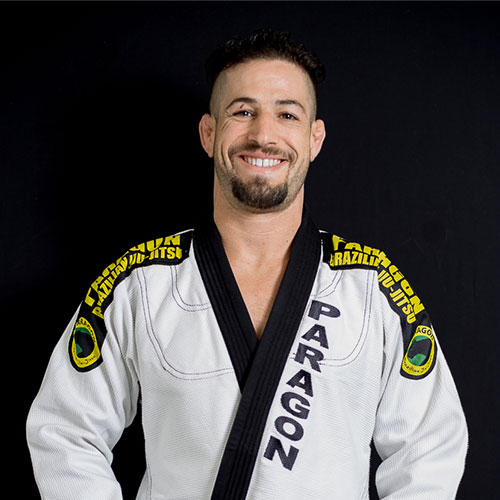 Adam Abrams
Instructor
After a significant background in physical conditioning, Adam began training Jiu Jitsu in 2006. Now a Paragon black belt, Adam has been hooked on BJJ since his first class. He has competed and medaled in many tournaments and looks to make training as fun as possible for whomever he is teaching. Adam explains his passion for BJJ by stating that unlike other ways of working out "Jiu Jitsu never gets boring because the learning process is infinite."
read more...
Adam benShea
Instructor
Adam benShea is a native of Santa Barbara. As a teenager, he began his Jiu-Jitsu training under Franjinha. In June 2006, Adam received his black belt from Franjinha. Adam has a long history in competitive grappling. Some of his more notable accomplishments were winning the Brazilian Jiu-Jitsu California State, Pan American, and World Championships. These days he is more focused on teaching and coaching BJJ. Aside from BJJ, Adam has a background in wrestling and Judo. Adam graduated from UC Santa Barbara, attained his MA from Indiana University, and he recently completed his PhD from Emory University. He is also the coauthor of the Amazon bestselling series, Jailhouse Strong, which covers physical culture and training.
read more...
Aaron Mendoza
Head Kickboxing Instructor
Aaron with over 18 years of martial arts experience runs the kickboxing program at Paragon. Aaron started his martial arts journey at the ripe age of 21 when he took his five year-old son to his first Taekwondo class in Santa Barbara. He spent the next five years training in the arts of Taekwondo and Hapkido. After getting the opportunity to train at the Kukkiwon, in Seoul, Korea he tested for his second degree black-belt in Taekwondo. He continued training in different stand-up styles with various instructors, learning methods that he found effective and practical for a challenging, yet, fun workout that he would later utilize in his career as a kickboxer. The philosophy in his classes are simplicity in technique but become proficient through repetition so that it becomes second nature if it is ever required. Aaron is certified under the Kukkiwon as a second degree Black belt, a certified kickboxing and Muay Thai instructor under the World Kickboxing Federation, Cardio-kickboxing instructor through Fitour and amateur boxing instructor under the United State Amateur Boxing, Inc. Aaron is an excellent instructor and his hands on approach to kickboxing helps make the sport easy to learn and fun.
read more...
Angie Ruccio
Rock Steady Boxing Instructor
Angie has a bachelor's degree in Recreational Therapy. She is a certified massage therapist, yoga instructor and certified personal trainer. Angie instantly fell in love with kickboxing after her very first class at Paragon Academy and has been training consistently for the past 3 years. This sport has brought so many positive changes to her life that to be able to help others through boxing would be a dream come true. Her hope is that she will be able to share her passion for the sport to enhance the lives of others and to help them feel the same confidence, strength, and pure fun that it has brought her.
read more...
Arturo Rios
Instructor
Arturo Rios' passion for martial arts began 8 years ago while training boxing with Coach Joe. Upon joining Paragon, Arturo transitioned into mixed martial arts. Arturo actively competes in both boxing and MMA, holds a blue belt in Brazilian jiu-jitsu, and specializes in complex striking techniques. Not only does Arturo train in every discipline we offer at Paragon, but he also teaches our kids' boxing and kickboxing classes.
read more...
Antonio Sanchez
Antonio Sanchez
Antonio Sanchez has been training under Head Instructor Aaron Mendoza for the past 5 years and has competed in amateur Kickboxing and Boxing events. Antonio is an excellent instructor focused on solid fundamentals and developing a solid conditioning base. Students of all skill levels can benefit from Antonio as he is both knowledgeable and patient.
read more...
Chris Hamman
Wrestling Instructor
Hailing from the Eastern port town of Baltimore, MD, Chris arrived in Santa Barbara four years ago with nothing but a truck and a dream to rock climb. After training Santa Barbara's climbing community, Chris decided to rekindle his passion for wrestling, a sport to which he had previously devoted five miserably satisfying years of his life. Chris hopes to share his passion for the sport with Santa Barbara's increasingly active community.
read more...
"Franjinha"
Paragon Brazilian Jiu Jitsu Founder Head Instructor
Ricardo "Franjinha" Miller has being teaching and competing for the last 15 years with many titles in regional, national and international competitions. With his black belt, Ricardo set for himself challenges extending beyond Brazil. In 1996 he came to the United States to compete and to teach. He proved to be successful at both. With American partner Mike Florimbi, the Paragon Academy of Martial Arts was founded in 1998 in Santa Barbara. Under Ricardo's hands-on direction as coach and fighter, Paragon Santa Barbara has become a powerhouse for Brazilian Jiu-Jitsu instruction in California. Ricardo and competitor-level students have dominated in regional, state, and international tournaments. In addition, Paragon has become a community force for recreational Jiu-Jitsu, a resource for law enforcement, and developer of ongoing physical training and self-defense programs for young people, adults, seniors, and women. With the success of the Santa Barbara school, "Franjinha" opened a Ventura location as well as affiliate schools in Lompoc and Santa Maria.
read more...
Gustavo Rigali
Instructor
After being inspired by Van Damme movies, Gus Rigali started his martial arts journey by training in Kickboxing and Muay Thai. Gus competed in amateur kickboxing, and, at one point, was internationally ranked in the CM defense program. To refine this technique, Gus trained in Thailand and alongside many MMA/UFC fighters. Later, he was introduced to grappling by his former coach, Danny Suarez. Gus, however, has a particular specialty in the stand-up component of MMA and focuses on a fighting style that looks to "subdue your opponent as efficiently as possible."
read more...
John Sandoval
Instructor
A Paragon black belt, John enjoys teaching and is a fierce competitor. After coming to Paragon, he has lost over 70 pounds and won a no gi world title. Along with the physical transformation, John credits Jiu Jitsu with improving his mental outlook on life. He teaches kids BJJ class and the early morning adult class.
read more...
Joe Pommier
Boxing Instructor
With his encyclopedic knowledge of boxing, Joe is an incredible resource for serious fighters and casual boxing enthusiasts alike. Along with amassing an impressive amateur record 79-6, Joe won prestigious titles like the US District Championship and gold at the National Blue & Gold tournament. During his pugilistic career, he was ranked in the top four in the country. Previously the head trainer at Primo Boxing, Joe has over twenty years of coaching experience. He currently teaches kids and adult classes. However, he has a wide range of coaching experiences, from working with top level professional fighters (MMA and boxing) to complete beginners.
read more...
Jose Adame
Instructor
Jose has been training martial arts for over 10 years and has been at Paragon for 8 years. He started training at The Pit in Arroyo Grande, and continued at Paragon after moving back to Santa Barbara. He received his brown belt in BJJ in 2015. He particularly enjoys the friendships that have developed through training, and that there is always something new to learn. When he is able, Jose enjoys competing in tournaments. He is a Santa Barbara native, and likes spending time with his family and dogs, practicing Jiu-Jitsu with his son, and is looking forward to the birth of his second son. He is excited about the opportunity to help teach the kids classes and pass on the valuable lessons Jiu-Jitsu has to offer.
read more...
Sean Apperson
Program Director
Sean Apperson is the co-owner and program director at Paragon Academy. Starting with club wrestling while growing up in Northern California, Sean found an early passion for wrestling, and has been involved in the grappling arts ever since. Sean began training under Ricardo "Franjinha" Miller at the powerhouse Paragon Jiu-Jitsu Club in 2001, and then after moving to Los Angeles to study molecular biology at UCLA, continued his training under Renzo Gracie black belt Shawn Williams and 1987 NCAA Wrestling Champion Rico Chiapparelli. After finishing his studies at UCLA, Sean returned to the Paragon Academy, and received his black belt from Professor Franjinha in 2009. In addition to teaching at the Paragon Academy, Sean has also founded the online training site jiujitsupedia.com, which features lessons from some of the biggest names in BJJ, judo, and wrestling (including Olympic medalists Travis Stevens and Israel Hernandez in Judo, and Stephan Abas and Matt Lindland in Wrestling). Always seeking new ways to better himself as both a martial arts practitioner and instructor, Sean has recently traveled to train at the prestigious Kodokan Academy in Japan, and AKA muay Thai gym in Thailand.
read more...
Tyson Mendeas
Instructor
Tyson has over 15 years of martial arts experience. After starting in boxing at the age of 17, he switched to kickboxing and trained under renowned trainer John Hackelman's at The Pit. Tyson competed on the California kickboxing circuit for 7 years and is responsible for starting the advanced kickboxing program at Paragon, a curriculum tailored for students that want to spar, compete in full contact events, or take their striking to the next level. He describes his striking style as "Dutch kickboxing fused with western style boxing."
read more...
Victor Villanueva
Instructor
Paragon black belt Victor Villanueva is proof of the transformative power of Jiu Jitsu. Through his training in BJJ, Victor learned that with hard work and dedication he can reach all of his goals on and off the mat.
read more...